"Meester snyt die keye ras / Myne name Is lubbert Das" is the inscription on a 1494 painting by by Hieronymus Bosch called "The Extraction of the Stone of Madness or The Cure of Folly." Lubbert Das is a comical fool in Dutch literature and is depicted as a patient having the stone of madness cut away by drilling a hole inside one's head. The Dutch inscription is the statement of the patient's name and the want to have his stone removed. Wow, all of this off of just searching what the band's name meant.
If the above paragraph was enough to grab interest, Lubbert Das is a complex lack metal outfit which little to no information regarding the member's names or anything significant done in the past few years. Regardless of this absence, Deluge is the a followup EP to a 2014 demo which continues the band's surprising introduction as a chilling act which has the ability to scare listeners into submission. The first track on the somewhat dense EP, is the harrowing "Stone, God's Blood" which just by the name sets the tone for a nightmarish experience. This is where the stone is extracted.
There is really nothing which stands out as different by Lubbert Das other than the ability to capture mood with almost drowning vocals. The instrumentation on Deluge is fluid and the album aesthetic is very typical to the history of black metal. It is not until one is halfway through the band's 12 minutes songs which things become clear. This is a band with a eerie precision to playing black metal. Deluge stands up as one of the more interesting black metal releases of the year and this is from a band that is not doing something all that different. Sometimes the best things come from places we thought once safe and ordinary.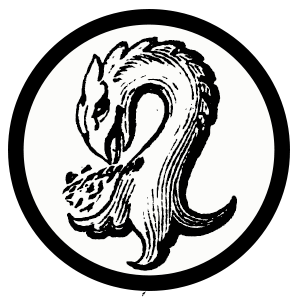 Kaptain Carbon is the custodian of Tape Wyrm, a mod for Reddit's r/metal, Creator of Vintage Obscura, and a Reckless Scholar for Dungeon Synth.